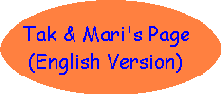 Welcome to Mari & Mizuho & Tak's English Home Page
Last Revision: October 4, 2004
Namaste, Wanakkam, and Assalaam alai Kum!

We are studying history, economy, and society of contemporary South Asia. Mari Sekiguchi-Kurosaki is a lecturer at several universities in Tokyo area, teaching South Asin Studies. Takashi Kurosaki (or call me "Tak" for short) is an associate professor of the Institute of Economic Research of Hitotsubashi University, Tokyo. Please send comments and questions to us here by an E-mail. Now, our daughter Mizuho has opened her own web page "Wecome to Mizuho's Homepage".
---
Latest News: Mari and Mizuho have just begun learning Tamil. It is a chelleging language for us Japanese, both its alphabets and pronunciations. Mizuho is really enjoying the lesson!
---
Please note that "Tak's Home Page" as well as "Tak's Publications" have been shifted to his new university homepage. Please visit Takashi Kurosaki's Homepage for information on development economics study on South Asian contries and please make a new bookmark there if you like the new one.
---
---
Back to Mariamma's Home