Latest News and Season's Greetings 1999-2000


With Best Wishes
from Mari Sekiguchi-Kurosaki, Tak Kurosaki, and Mizuho Kurosaki
(December 16, 1999)
Photos and Family Events, 1999
---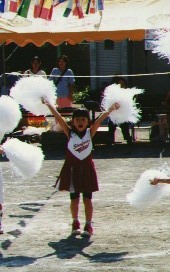 As usual, our family life has been going around our daughter Mizuho. Here are some photos of her.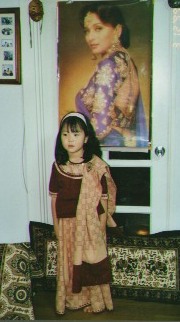 (Left) Mizuho as a mini Cardinal girl, dancing "YMCA". This photo was taken in her sports day event, October 1999. We are very glad to hear that Stanford Cardinals Football Team is bound for Rose Bowl. Mizuho is already in a moot to cheer for the Cardinals wearing this jersey.

(Right) Mizuho is standing in front of Madhuri Dixit, wearing a simple cotton Ghagra dress. This is a dress Tak bought from Hyderabad, Deccan, India, when he was visiting the ICRISAT villages for his study, August 1999 (you can read his papers from these villages by clicking here). Mizuho's style imitates Kajol in "Kuch Kuch Hota Hai".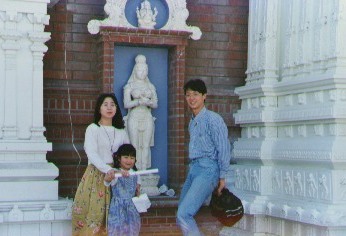 Family photo at Shiva-Vishnu Temple, Livermore, California. We travelled to the West Coast, USA, March-April 1999. Tak presented his seminar paper at Stanford. Mari was busy visiting Asian-Indian monuments, including Sikh temples in Vancouver and Hindu temples in Livermore, which is shoen in this photo. Because of these memories, Mizuho believes that USA is a land where Asian Indians are majority!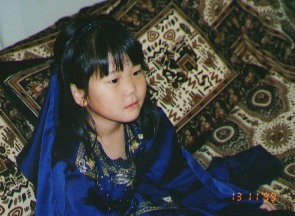 Mizuho in deep blue Ghagra dress. This dress was a present from our good friend Sanjai, a copy of a very famous Madhuri Dixit's costume in "Hum Aapke Hain Koun?". She really liked this present, saying that she is like a princess when she wears it. "Thank you Uncle Sanjai!" says Mizuho. (More photos of Mizuho in Indian/Pakistani dresses).


---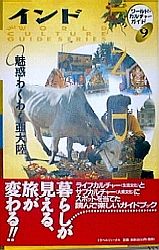 Mari and Tak's Busy Days about South Asian Studies. Both of them actively participate in the continuing research project on South Asia, titled "Institutions, Networks and Forces of Change in Contemporary South Asia: in Search of a New Model of Unity in Diversity", funded by the Japanese Ministry of Education (1998-99 to 2000-2001). In addition to the March-April USA family trip and Tak's August ICRISAT trip, Mari visited UK for the first time in August, 1999. Tak joined in a mission to investigate Pakistan's economy during August-September, 1999.

Mari's new book has been published on October 1999. You can see its pretty cover on the right. Its title is World Culture Guide: India--Enchanting Sub-Continent. We are very sorry that it is written in Japanese. The book has become a very popular one among Indian culture lovers in Japan.



---
Best Wishes for 2000 (Y2K)!
---
Back to Tak & Mari's English Home