About Our Family
Last Revision: December 16, 1999
Our family consists of Mari Sekiguchi-Kurosaki, Takashi Kurosaki, and Mizuho Kurosaki. Since Mari and Tak have own homepages, this page is meant especially for Mizuho, who is our daughter, now five and a half years old.


---
Her name Mizuho symbolizes the rice-based culture of Japan: it literally means vigorous rice crops but is usually used as an adjective for the homeland of Japan. As a recall, the year she was born (1994) was when Japan experienced the lowest rice production and accepted the so-called "Minimum Access" of rice import under the Uruguay GATT Round, abondoning her long-time policy of import ban on rice.

Already influenced by her parents' interests, Mizuho seems to like South Asian culture. She always make friends with people from South Asian countries in the grocery store, even when she was very shy with unknown people in general. Although she can speak only Japanese right now, she can greet with gesture "Namaste," "Wanakkam," and "Salaam". Here are some photos of Mizuho in a chronological order:


---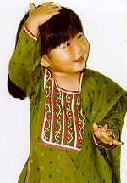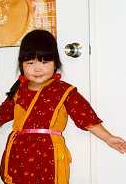 The left photo shows Mizuho wearing Pakistani Shalwar Kameez dress, when she was two years old. She tries to say "Salaam".

In the right photo, Mizuho wears a Ghagra dress from Gujarat, India. The photo was taken when Mizuho was three years old.

---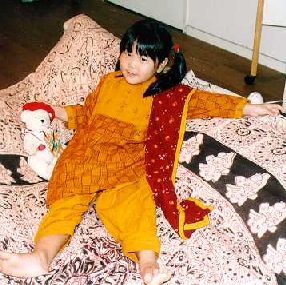 When Mizuho became four years old, she gradually learned how to request new dresses every time Tak or Mari want to South Asia. In this photo, she is relaxing in her new Shalwar Kameez Tak bought from Delhi, India.


---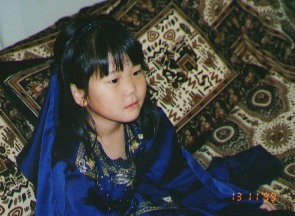 And now Mizuho is five years old. Her deep blue Ghagra dress was a present from our good friend Sanjai. This dress is a copy of a very famous Madhuri Dixit's costume in "Hum Aapke Hain Koun?". She really liked this present, saying that she is like a princess when she wears it.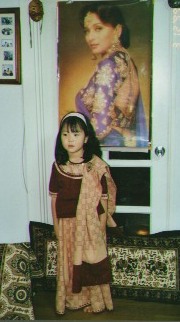 Finally, she is standing in front of Madhuri Dixit, wearing a simple cotton Ghagra dress. This is a dress Tak bought from Hyderabad, Deccan, India, this year when he was visiting the ICRISAT villages in his study. Mizuho's style imitates Kajol in "Kuch Kuch Hota Hai".

---
Back to Tak & Mari's English Home